Mohammed (MO) Al-Khamri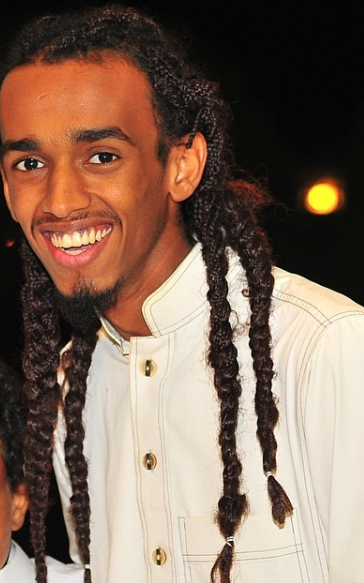 I unleash my tied up spirit in the vast city of barricades, dancing, disguised by the open air, to the sound of hip-hop music. My big smile and curly hair are my companions in this free dance; where some of my thick hairlocks cover my ears to protect them from this city sunken in its fakeness and virtuous claims: "Are you a boy or a girl?" I am a human!
I shout and I hit the ground to break the chains of the patriarchal city and the gender-based norms that restrict me. A girl comes to me out of nowhere and pulls my hair: "Is this your natural hair?" Yes, ma'am, this is not a wig, like the huge fakeness that is covering you from head to toe. I warn you, if you lay a hand on my hair again, it will be trapped inside by my wavy, loyal and stubborn Soldiers, and you will not be able to escape the intertwined tangled threads.
A cascade of thick hair locks fall down on my wide forehead that is worn-out with over thinking and fatigue. My glorious threads conceal many questions that have come in the form of wide wrinkles penetrating my twenties. These wrinkles are engraved with every slap, denouncement, punishment, and exclusion I face because of my beautiful, curly hair and my dancing soul.
Why is my city waging a war and conspiring against my very peaceful hair and very peaceful steps ?
"My son, cut your hair": My mother repeats the same sentence every morning, every evening, and with every encounter, out of love and fear for me of this city; a city that is shaken by the thick wavy hair of a young man with neat yet untamed curly threads that are impossible to be straightened; threads that are contrasting with the traditional image of the Middle Eastern man.
"Do not come back to school until you cut your hair and stop dancing": The high school principal prevented me from getting into the school because my hair is capable of "inciting the imitation of infidels and revolutionaries" My hair "threatens society and its virtuous values". I rub my head! Why all this? I resist and manage to got into class, just to be hit by the teacher's stick on my shoulder and dragged by my hair where some threads fall down as martyrs of the violations and beatings I had to face. I run away tapping and talking to my hair: "They will not let me enter the school until I redeem you as a sacrifice. Many around me are waiting for you, they want you to fall, to be swept away, to be buried in the trash and become nothing in order to live in the city of men!"
"Cut your hair, stop dancing or you will be arrested!" On my way to work, a policeman stops me, his eyes fall on my huge curly hair, and along with his colleagues they mock me and laugh at me because of my curly "Afro" hair, or "Kadash". When I protest, I am sent to detention on charges of having thick curly hair and for dancing freely. I was arrested and the accused was my hair, my dance that did not steal, did not hurt anyone, did not kill. There is no universal law to defend my right to keep my thick curly hair, my dancing body regardless of my gender, there is no lawyer to defend me. I am surrounded by soldiers who begin a session of humiliation and degradation of me. "You are a girl when you let your hair grow like that and dance… you are not a man"
I remain calm and let out a deep breath from the deepest point of my soul, while my hair locks fly with pride in front of them and drop down on my face. They push me and kick! My silence kills them, a death sentence on my hair is announced and the appeal is rejected. I am resisting for my hair... for my dignity... For the last hip hop dance. But they tie me up and hurl curses at me. They begin to cut my hair arbitrarily, brutally and violently.. My hair is clipped from the roots for this sick masculinity to prevail. My hair is distorted during this violent process and I lose all my beautiful curly threads..
The soldiers of the city withdraw with their uniforms and equipment, leaving me behind drowning in the middle of a pile of hair and a great sadness in the detention room. They leave me bleeding from the head with even deeper scars in my soul. I curl up on the floor, surrounded by a thousand threads of my curly hair. But then, suddenly, a voice comes to me...
"Mohammed, do not be sad... we will grow again!"